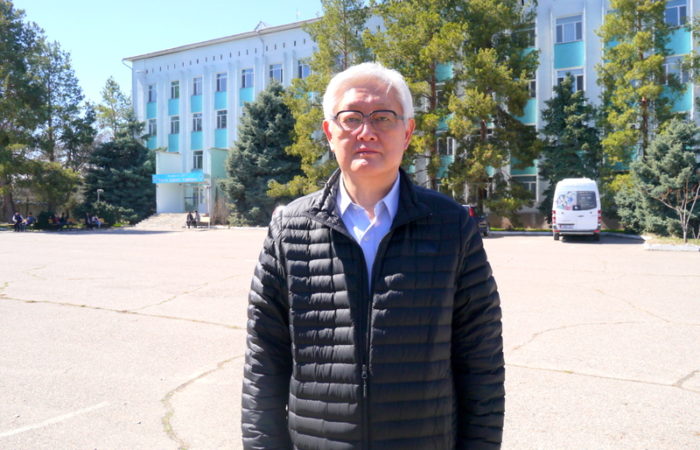 Hello, I am Dr. Paul Synn, founder and president of KEIIN International Institute. In my twenties, I left Korea, my native country, for America to pursue The American Dream. I became a U.S citizen and lived in the U.S for more than 33 years, during which time I obtained most of what I was looking for in The American Dream: a PhD in Finance, a good job, good health, a good family, a nice home, adoration from friends, and respect from peers. But I was not satisfied; I wanted to do something more meaningful in my life.
I came to Kyrgyzstan with one dream – to establish a truly international university that provides world-class, English-based education to young men and women of this region so that they can have a better future in this global 21st century. When these young people become devoted and astute leaders in their respective communities, working together to create a better world for all to live in – when they become trustworthy and capable workers in their respective fields of expertise, and loving and responsible parents in their own homes – then, I would know that my dream has been fulfilled. With a dedicated full-time staff, talented and accomplished faculty, and enthusiastic students, we have made KEIIN Institute the place to be.
We, at KEIIN, take great pride in our academic programs. We offer both 2-year-college and 4-year-university programs in Business Management and Computer Science. We also offer a 2-year-college program in Tourism and a 4-year-university program in Philology, as well as EHSP  for 9th graders and our very own English-intensive University Preparatory Program (UPP).
To support and fully equip our faculty and students in their pursuit of academic excellence, we provide free WIFI access throughout our campus, a state-of-the-art computer lab, online classrooms, and a large library. Located in the beautiful countryside of Ivanovka, KEIIN Institute's 18-hectare (44.5-acre) campus also features a dining hall, student café, large auditorium, and 5-story dormitory. Our dining hall offers nutritious and delicious meals everyday, prepared with care by our highly qualified chef and trained kitchen staff.
If you are looking for an institution of learning and a community to help you nurture and fulfill your dreams, come and visit us! Call or email us and get to know us better. We have students from all over the region – from Bishkek, Talas, Belavoski, Kant, Tokmok, Issyk Kul, Karakol, Naryn, Osh, Batken, and Jalal Abad, to name a few. Join us and we will help you turn your dreams into reality.
Yours truly,
Dr. Paul Synn, Founder and President
KEIIN International Institute